Deleting a Windows 10 user is not a complicated matter and there are several ways to do it. However, before you delete a Windows 10 user account, it is a good idea to create a backup, otherwise the data will be lost. You can also change Windows 10 accounts, for example, change them to an administrator account. The following instructions will show you how to do all that.
Delete Windows 10 user
Benötigte Zeit: 5 Minuten.
To delete a user in Windows 10, you just need to follow a few simple steps. However, make sure that you log in with a user account that has administrator privileges. Only then can you delete another Windows 10 user account.
Open control panel

Type "Control Panel" into the search in the taskbar and confirm with Enter.


Select "User accounts"

Select the item "User accounts". There you will find all the settings for managing users.

Click on "Change account type

Now select "Change account type". All user accounts registered on the PC will be listed. Select the one you want.

Click on the profile picture of the user

To delete the Windows 10 user account, click the option next to the profile picture. Now you will be asked if you want to delete the data in the memory or if you want to keep it. You should make a backup at this point at the latest.

Click "Delete account"

Click the "Delete account" item on the left side.

Confirm with "Delete files"

Bestätige indem du auf u0022Dateien löschenu0022 im blauen Pop-Up Fenster klickst. Beachte bitte: Mit diesem Klick entfernst du alle Daten und Einstellungen unwiderruflich.
Can I also delete an administrator account?
You can delete an administrator account just like a Windows 10 profile by following the instructions above. Note, however, that you cannot delete the account you are currently using and that you must also be an administrator there
So there must be at least two administrator accounts on the PC for you to be able to delete one. If this is not the case, you have to create another administrator account first.
How do I change an account in Windows 10?
You don't have to delete a Windows 10 user right away, but you can also change the user account. For example, after creating the account, you can give it administrator rights or restrict it to a few apps. If you want to give administrator rights, proceed as follows:
Click on the newly created account and then select "Change account type".
A window will open where you can choose between "Standard user" and "Administrator".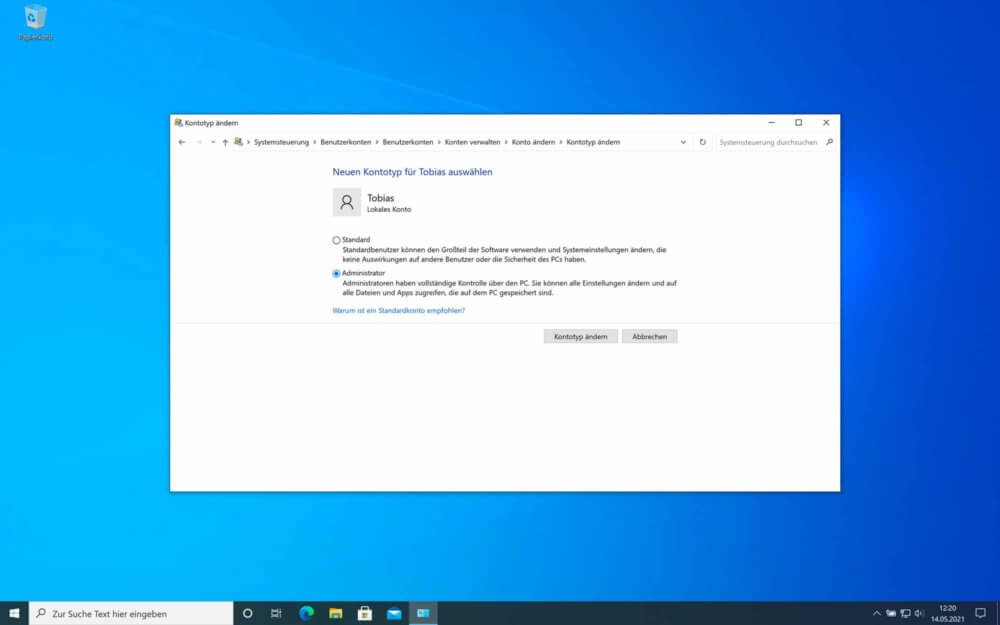 Instead of deleting a Windows 10 user, you can also restrict the account to selected apps. To do this, go through the following steps:
Select the desired account and click on "Set up assigned access".
There you have to select the account.
Now you can select the different apps you want to restrict the account to.
Delete user profile Windows 10
There is another way to delete a profile on Windows 10, it goes like this:
To delete a user profile on Windows 10 press the key combination [Windows] + [R]. The Run dialog opens.
Enter "netplwiz" in the Open field and confirm with OK or the Enter key.
You will now get to the "User Accounts" dialog. Make sure that the checkmark in front of "Users must enter user name and password" is set. Only then you can use the buttons below.
To delete the Windows 10 user, select the desired account and click on "Remove". Again, as in the first variant, you will get a warning message from Windows.
To delete the profile under Windows 10, click "Yes" here and then close the opened window via "OK".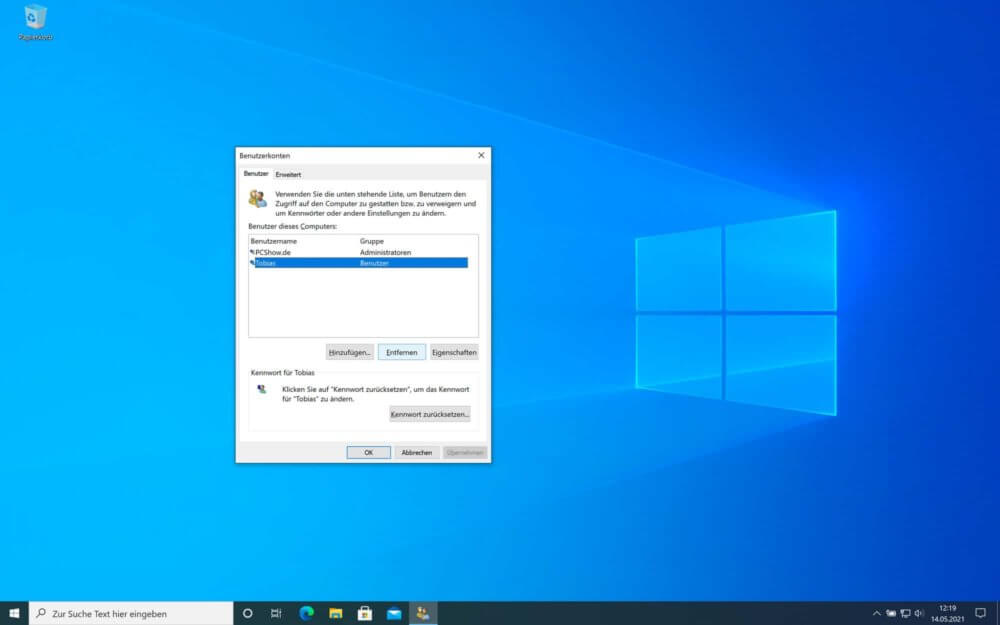 Our conclusion
Deleting a user in Windows 10 is done in a few simple steps, whether via the Control Panel or a shortcut. It is not even necessary to delete a Windows 10 user account, but you can also change its permissions. So you can give administrator privileges to a simple account and vice versa. Do you have any questions? Leave us a comment below.
Disclaimer: PCShow.de übernimmt keine Gewähr für die Aktualität, Richtigkeit, Vollständigkeit, Wirksamkeit und Unbedenklichkeit der zur Verfügung gestellten Informationen. Wir weisen ausdrücklich darauf hin, dass offizielle Herstellervorgaben vorrangig vor allen anderen Informationen und Empfehlungen zu beachten sind. In diesem Artikel gibt es zudem Produktplatzierungen und/oder Werbung, für die wir nicht beauftragt wurden.