Joining cells in the Word table is a convenient thing. Contents can be connected and give the table a better overview. But even if you want to split the cells again, this is no problem. In this article, we'll show you how to do this easily yourself – whether you're using a Windows PC or a Mac.
Join Word table cells – on Windows or Mac
First of all, we will show you how to join cells in a Word table. We have prepared a tutorial for Windows and one for Mac for you.
Angebot
ANZEIGE – Preise inkl. MwSt., zzgl. Versandkosten / Letzte Aktualisierung am 2022-05-24 at 21:11 / Affiliate Links / Bilder von der Amazon Product Advertising API
How to join cells under Windows
With these simple steps you can join cells in your Word table:
First, select all the cells you want to join. Note that the rows or columns must be directly adjacent to each other.
Click with the right mouse button on the area you just marked and choose "Merge cells" from the drop-down menu.
The selected cells will now become one. The contents of the rows or columns will also join in this cell.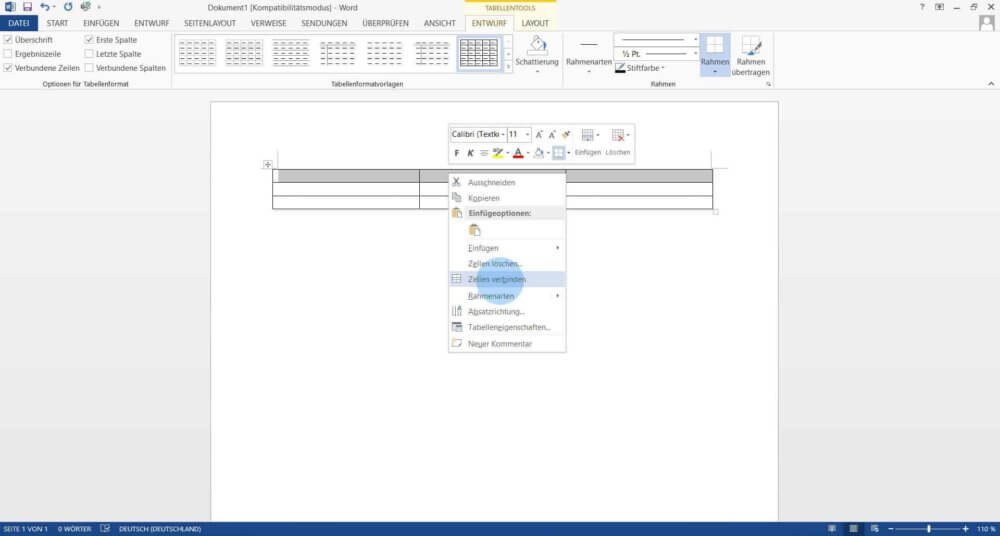 It can be that you do not see the table lines in Word. To be able to join cells in the Word table anyway, you have to switch on the grid lines. You can do this like this:
Click on Table Tools > Layout > Show Gridlines. Now you should be able to see the table.
Follow the instructions above to connect the cells.
It is important that you display these lines. Otherwise, joining the cells may not work.
Joining Word table cells on your Mac
Joining cells in Word Table works as easily on Mac as it does on Windows. The steps are very similar, but we'll list them again here:
If you can't see the border of your table, you need to enable the grid lines. To do this, go to "Layout" in the table design and select "Show grid lines".
Then select the cells you want to merge. Please note that you cannot merge cells that cross a corner.
Right-click on the selected cells and select "Merge cells" from the menu.
Alternatively, you can do it in the "Table design" tab. To do it, click on "Layout" and then on "Merge cells".
Unmerge or split cells in Word table – under Windows or Mac
If you have now merged several cells into one, but would rather have single cells again, then you can follow these steps. We have written a tutorial for Windows and one for Mac.
Split cells in Word on Windows
You want to separate the cells in your Word table? Then you have to split the cells, which works in principle the same as the join. Proceed like this:
Select the cells you want to split.
Select Layout from the top menu and click on "Split cells".
Type the number of columns or rows you want to split the cell into. Confirm with "Ok".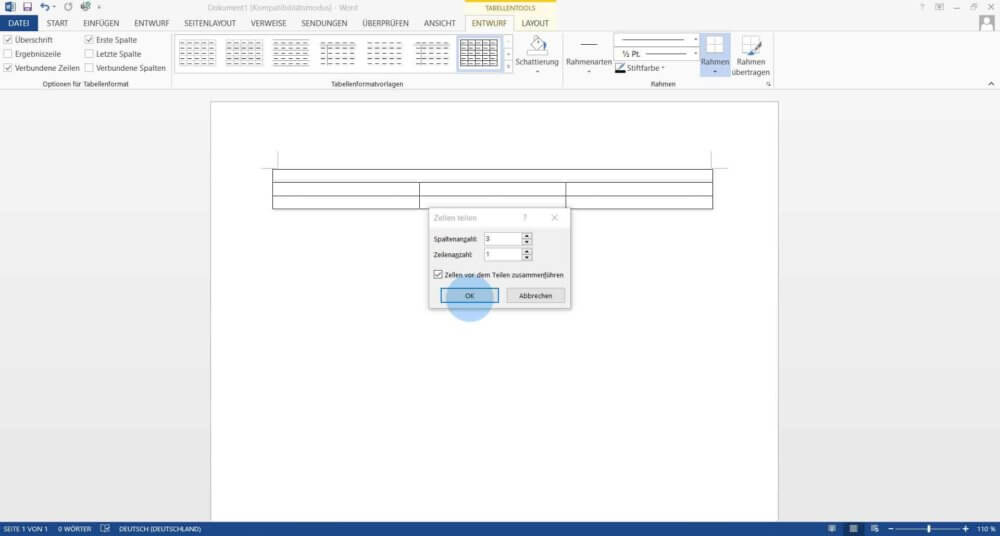 You can also split the cells with a right mouse click. It works like this:
Select the cell you want to split and right-click on it.
Select "Split cells" from the drop-down menu.
This works for connected or single cells. If you have selected several single cells, only the option "Merge cells" is available.
Unmerge Word table cells on Mac
Undoing Word Table Merge Cells is very similar to the instructions for Windows. But here are the steps again how to do it on your Mac:
Click in the table and select the joined cells to split.
With the right mouse click you open the menu. Then select "Split cells".
A new window appears. Here you have to enter the number of rows and columns you want to split.
Confirm the input with "OK".
Alternatively you can do this in the menu "Table design".
Click on the tab "Layout". Then select "Split cells".
As you can see, the two instructions are very similar. Although Windows and Mac differ in many system settings, the operation of Microsoft programs is very similar. The differences are often only in the design or the arrangement of the functions. This makes it easy for you, as you don't have to remember many different instructions just to get good results on both computer systems.
Our conclusion
Joining cells in a Word table is done quickly and easily. You can use the table tools via the layout or just use the right mouse button. The cells can also be easily disconnected again. The steps are very similar on Windows and Mac systems. Do you have any questions about this topic? Write us in the comments.
Disclaimer: PCShow.de übernimmt keine Gewähr für die Aktualität, Richtigkeit, Vollständigkeit, Wirksamkeit und Unbedenklichkeit der zur Verfügung gestellten Informationen. Wir weisen ausdrücklich darauf hin, dass offizielle Herstellervorgaben vorrangig vor allen anderen Informationen und Empfehlungen zu beachten sind. In diesem Artikel gibt es zudem Produktplatzierungen und/oder Werbung, für die wir nicht beauftragt wurden.