Finding your Apple Watch when it's untraceable is very easy – provided you've made the appropriate settings beforehand. In this guide, we will show you step by step what is necessary to secure your Apple Watch from theft or simply to find a misplaced Apple Watch.
Apple offers the service "Find iPhone" via iCloud or the app "Where is?" on your device. Even if it says iPhone, you can still find all your Apple devices via this option. You can search for this article:
Enable Apple Watch searches
Disable Apple Watch Search
Add new devices
Delete existing devices from the search
Locate, delete, or lock individual devices
Why should you keep the settings enabled?
It's a well-known fact that Apple devices are not only high-end in terms of technology, but also in terms of price. Therefore, it is tempting for thieves to steal an Apple device, as the value of such devices also does not decrease as fast as other manufacturers. Thus, for example, even an iPhone that is getting on in years is still worth a lot of money.
ANZEIGE – Preise inkl. MwSt., zzgl. Versandkosten / Letzte Aktualisierung am 2022-06-26 at 14:01 / Affiliate Links / Bilder von der Amazon Product Advertising API
However, the most important aspect should always be your own privacy. Private data, voice messages or pictures can also be stored on an Apple Watch, which should not necessarily fall into the hands of strangers. And if you cannot prevent the theft as such, you should at least make sure that the thief cannot get to your data or, in the best case, cannot do anything with your Apple Watch because you have "deleted" it.
Distinction to the activation lock
Apple places a high value on security. Even if you haven't gone through the following step-by-step instructions yet, we can reassure you: Thanks to the automatic activation lock, there is always basic security for your devices. You may have noticed when setting up your Apple Watch that you had to "pair" it. This process connects your Apple Watch to your iPhone, and through it, to your Apple ID. This way you don't have to activate find Apple Watch, at least not manually!
Find Apple Watch – step-by-step guide for iPhone
Now let's take a look at what is necessary to find your Apple Watch and use all the described options on iPhone:
Open the "Where is?" app on your iPhone.
You will see a map in the upper area and icons of your devices in the lower area all your devices will be listed. If you only have an Apple Watch, two dots will be shown on the map (to set up an Apple Watch, you need an iPhone, which should also be on the map, unless your Apple Watch was set up by a family member or someone else's iPhone).
Tap on the Apple Watch icon on the map.
Some information and options will now open up for you to use. First, you can see the last known location, the last battery level and when the corresponding information came from. This is then also the simplest view to find the Apple Watch.
Play sound: You can tap this button and your Apple Watch will play a sound until you press the crown on the device. However, it is important to know that this requires some kind of connection. So if your Apple Watch doesn't have a Bluetooth or Internet connection, it won't play a sound, but will when it reconnects.
Route: You can use the Apple Maps app to display a route to your Apple Watch.
Notifications: If your Apple Watch doesn't have a connection, you can enable "Notifications." The watch will then send you a notification when it reconnects.
Mark as lost: Depending on your operating system, this option is also still called "Lost Mode." This locks your Apple Watch and it can't be used or sold by strangers.
Erase: Erasing your Apple Watch should be the absolute last step you take, because it can't be undone. The watch thus irrevocably deletes all data. This also allows you to disable the find Apple Watch.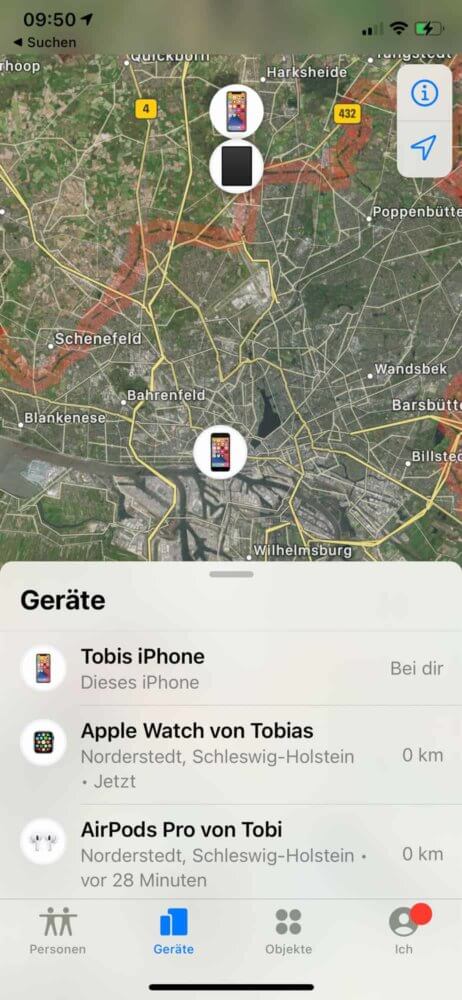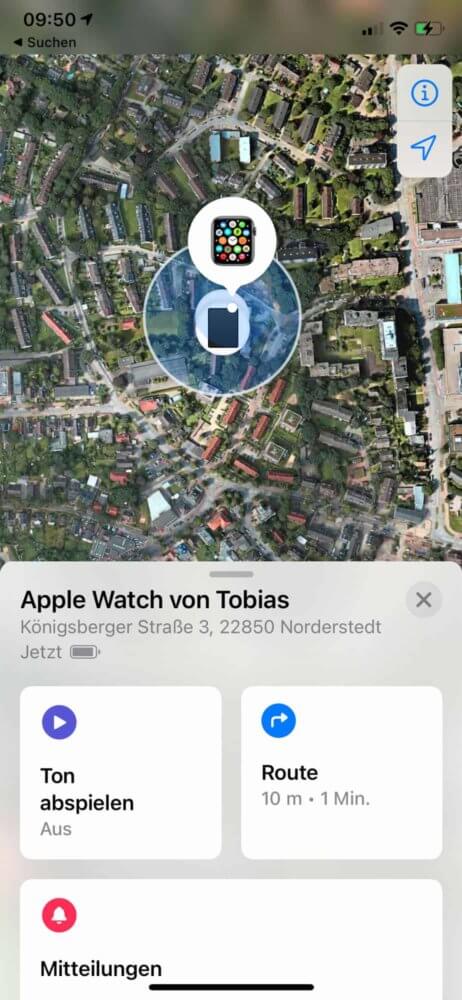 Find Apple Watch – step-by-step instructions via iCloud
In addition, here is a brief guide on how to access your settings via the iCloud in the browser:
Navigate to the iCloud website (icloud.com) in an internet browser and sign in with your Apple ID.
After logging in, you'll see all the available services. On the bottom right, you will find a radar icon labeled "Find my iPhone". Left click on this icon.
You may have to log in again for security reasons. If everything worked, you will see a map with dots. The dots represent an Apple device that is linked to your Apple ID.
You can left-click on a dot and then click on the i icon to display your device information. An information window opens, there you can see a picture of your device (product picture), the battery status, the last location in minutes as well as three icons to be able to "play a sound", delete the device or activate the "lost" mode. Alternatively, at the top of the map, you will find the "All Devices" label. If you left-click there, you'll get a list of available devices.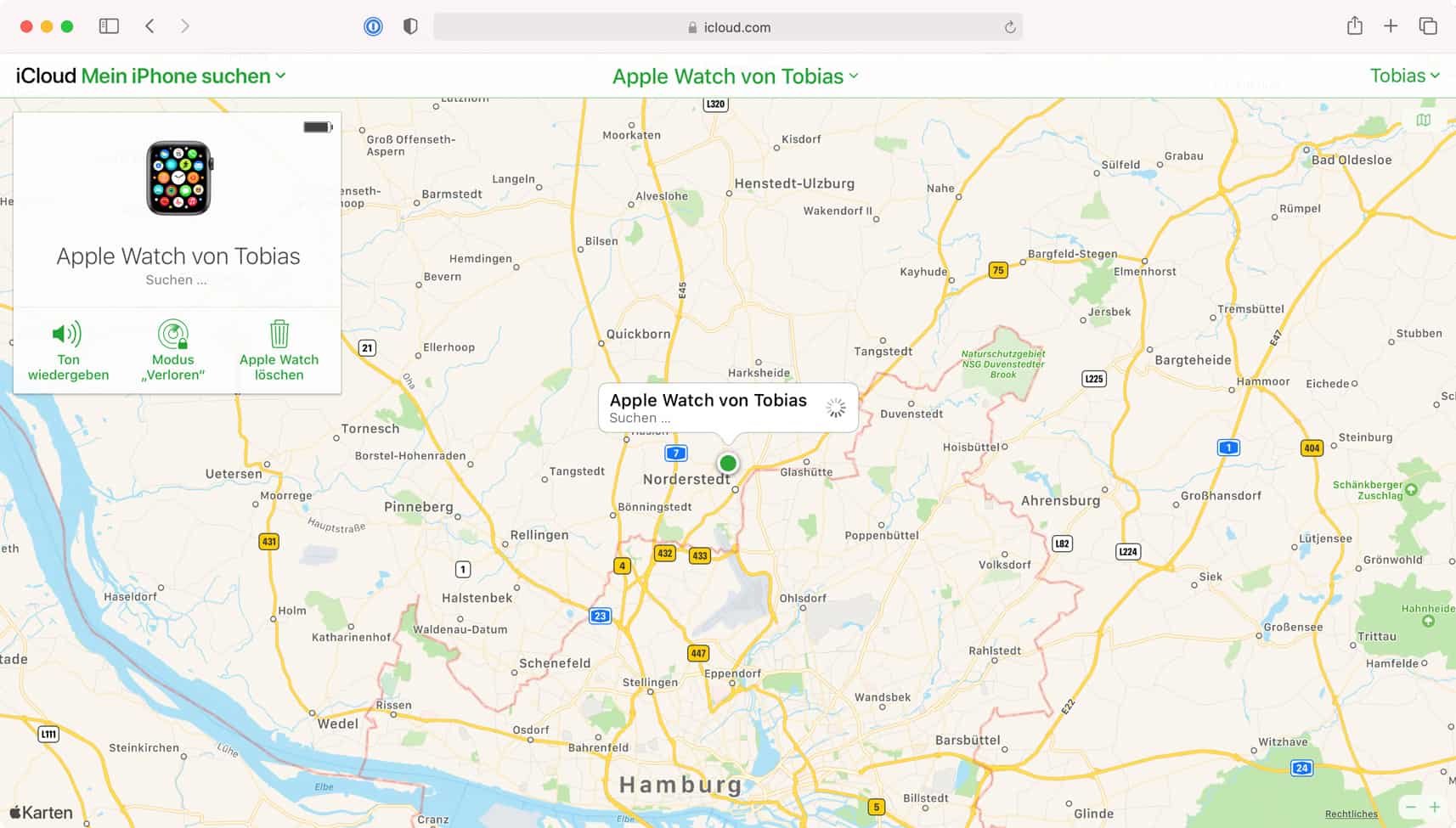 Fix Apple Watch search after update failed
From time to time, you may encounter minor issues. You can solve the message "Apple Watch searching for update failed" as follows:
Your Apple Watch needs regular updates to be up to date and to close security gaps. If you get an error message, the problem is relatively simple to solve. Here are the main sources of errors and how you can fix them:
As soon as you take the Apple Watch off your wrist, it will be locked and you won't be able to update it. So you should press the crown and enter your PIN.
No connection to iPhone: For an update, the Apple Watch needs to connect to the iPhone. It's best to put it right next to your phone. If your Apple Watch cannot establish a connection to the iPhone, it is usually sufficient to re-establish the connection in the connection settings of the cell phone. If that doesn't work, you'll unfortunately have to unpair the Apple Watch and pair it again. If all this does not help, contact Apple Support, as there might be a defect.
Internet connection: A weak or non-existent internet connection will also cause the update to fail.
Battery: Your Apple Watch needs at least a battery level of 50 percent to perform an update.
This should finally solve the problem!
Angebot
Bestseller Nr. 1
Bestseller Nr. 2
Bestseller Nr. 3
ANZEIGE – Preise inkl. MwSt., zzgl. Versandkosten / Letzte Aktualisierung am 2022-06-26 at 11:31 / Affiliate Links / Bilder von der Amazon Product Advertising API
Our conclusion
To be able to find an Apple Watch, only a few simple steps are necessary and you can already see the location clearly on a map. If it should not work, we have listed possible solutions that should help. If you still have questions, please write them in the comments!
Disclaimer: PCShow.de übernimmt keine Gewähr für die Aktualität, Richtigkeit, Vollständigkeit, Wirksamkeit und Unbedenklichkeit der zur Verfügung gestellten Informationen. Wir weisen ausdrücklich darauf hin, dass offizielle Herstellervorgaben vorrangig vor allen anderen Informationen und Empfehlungen zu beachten sind. In diesem Artikel gibt es zudem Produktplatzierungen und/oder Werbung, für die wir nicht beauftragt wurden.