Nowadays, people don't just listen to music on their tablet or laptop. The variant via the TV or Playstation 4 is becoming increasingly popular. But using Spotify on the Apple TV was not possible for a long time. In this article we show you some helpful tips and tricks how you can use the Spotify app on the Apple TV. Enjoying music has never been so easy.
How can I listen to Spotify on the Apple TV?
Unfortunately, it is not possible to listen to Spotify directly via any Apple TV. On many devices, this only works with AirPlay – especially up to the third generation. This requires another Apple device (e.g. iPhone, iPad or iPod). Here's how to connect your devices with AirPlay:
Your iPhone or iPad and the Apple TV must be on the same Wi-Fi network.
Go to your Spotify app on your iPhone or iPad and select or launch a song.
Next to the "Current Song" field, press the down arrow.
There you will get to the "Available devices" section. Then you have to select your Apple TV to start the stream via "AirPlay".
However, you can still connect your devices using another option. Google Chromecast works on Apple and Android devices and is basically very similar to AirPlay. You don't have to have an iPhone to listen to Spotify on the Apple TV with this option.
ANZEIGE – Preise inkl. MwSt., zzgl. Versandkosten / Letzte Aktualisierung am 2022-06-24 at 13:21 / Affiliate Links / Bilder von der Amazon Product Advertising API
Using Apple TV Spotify Connect for streaming
Spotify Connect lets you connect a wide variety of devices so you can listen to music. It's very easy to connect your speaker or Apple TV. Here's how you can use your Apple TV to listen to Spotify through Connect. Follow these steps:
To do this, open the app on your smartphone or tablet.
Select a song and tap available devices.
Select your second device (for example, your Apple TV or a speaker) and you're ready to go.
Listen to Spotify on your Apple TV via app? The new Generation 4 makes it possible!
The Apple TV generations from 1 to 3 cannot download the Spotify app from the App Store. But with the new generation, it is possible. How exactly you too can listen to Spotify with app on your Apple TV, we will show you here: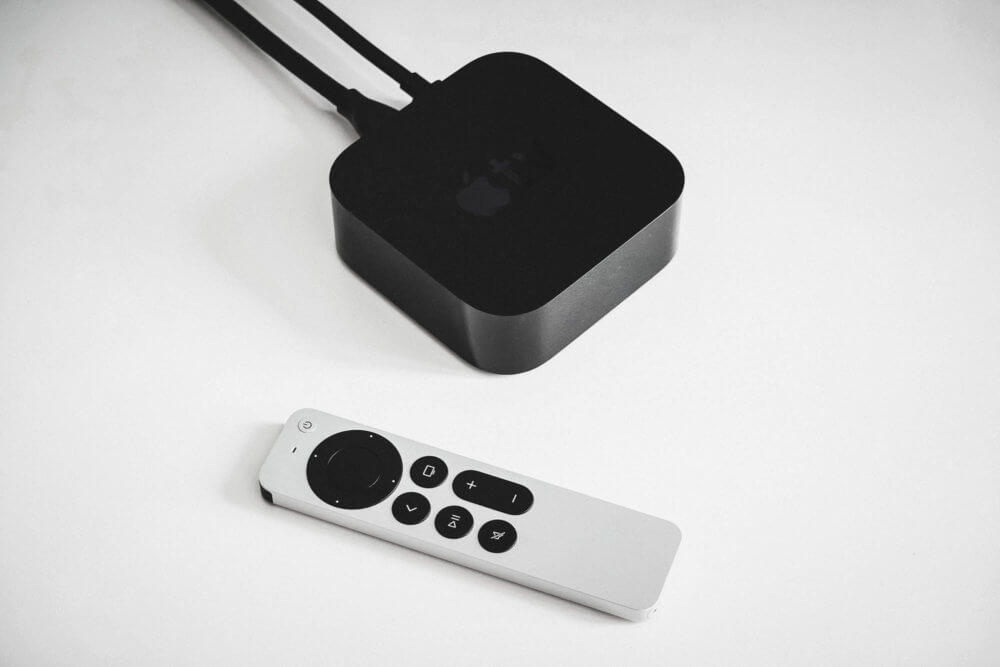 Open the App Store on your Apple TV. Select "Search" and type in Spotify. Then click on it in the results
Select "Install apps automatically" to download Spotify. Once the download is complete, the app will launch. Then you need to sign in with your account.
Click "Sign in." You will receive a code on your screen. You can use it to pair your Spotify account.
Launch an internet browser on any device and go to www.spotify.com/de/pair. Then sign in with your Spotify account.
After signing in, you need to enter the code in the field on the Apple TV. Then you still click on pair and you can enjoy music on the Apple TV.
ANZEIGE – Preise inkl. MwSt., zzgl. Versandkosten / Letzte Aktualisierung am 2022-06-24 at 13:21 / Affiliate Links / Bilder von der Amazon Product Advertising API
What can I do if Spotify doesn't work?
Have you downloaded the app and Spotify still doesn't work properly on the Apple TV? Then there can be several reasons. The most important ones you should check are listed here:
Check carefully if your TV is also connected to the Internet.
Go to the App Store of your TV and check if there are new updates for the Spotify app.
Install an Apple TV update if available
Also check if the TV's software is up to date.
Try restarting the Spotify app.
You can also restart your TV to get Spotify up and running.
Sometimes it also helps to restart your Wi-Fi router.
If Spotify still doesn't work properly, delete the app and reinstall it.
A different Wi-Fi connection might also help.
Our conclusion
Listening to Spotify on the Apple TV is now possible with one or the other variant. The new generation Apple TV also makes it easy to download the app. But you can also use the function via AirPlay and connect your devices with Bluetooth. Would you like to know more about this topic? Use our comment section for your questions.
Disclaimer: PCShow.de übernimmt keine Gewähr für die Aktualität, Richtigkeit, Vollständigkeit, Wirksamkeit und Unbedenklichkeit der zur Verfügung gestellten Informationen. Wir weisen ausdrücklich darauf hin, dass offizielle Herstellervorgaben vorrangig vor allen anderen Informationen und Empfehlungen zu beachten sind. In diesem Artikel gibt es zudem Produktplatzierungen und/oder Werbung, für die wir nicht beauftragt wurden.